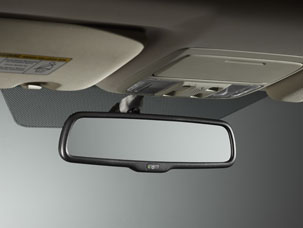 Auto Day/Night Mirror with Compass
The Auto Day/Night Mirror helps to reduce the glare of bright headlights from the cars behind you without having to lift a finger. Automatically adjusts for all light conditions, and perfectly replaces the standard mirror. Compass is included, which makes using maps and following directions even easier.

Click here to view a PDF of the installation instructions.
Attachment Kit (Required) Part Number 08V03-T2A-100List Price: $77.00 | Your Price $61.60
Add To Cart
Mirror with compass Part Number 08V03-TR0-100AList Price: $234.00 | Your Price $187.20
Add To Cart