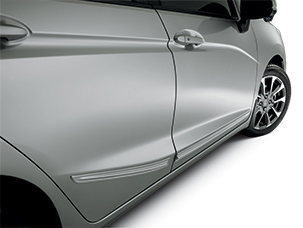 Body Side Molding - Sedan
Body Side Molding accentuates the Accord`s styling, but there`s more to it than just good looks. It`s ideally positioned where the side panel extends out the most in order to help protect against door dings and scratches.

Click here to view a PDF of the installation instructions.
Sedan - Obsidian Blue Pearl Part Number 08P05-T2A-150List Price: $225.00 | Your Price $180.00
Add To Cart
Sedan - Modern Steel Metallic Part Number 08P05-T2A-140List Price: $225.00 | Your Price $180.00
Add To Cart
Sedan - Basque Red Pearl II Part Number 08P05-T2A-170List Price: $225.00 | Your Price $180.00
Add To Cart
Sedan - Alabaster Silver Metallic Part Number 08P05-T2A-110List Price: $225.00 | Your Price $180.00
Add To Cart
Sedan - Hematite Metallic Part Number 08P05-T2A-160List Price: $225.00 | Your Price $180.00
Add To Cart
Sedan - Crystal Black Pearl Part Number 08P05-T2A-120List Price: $225.00 | Your Price $180.00
Add To Cart
Sedan - White Orchid Pearl Part Number 08P05-T2A-130List Price: $225.00 | Your Price $180.00
Add To Cart
Sedan - Champagne Frost Pearl Part Number 08P05-T2A-180List Price: $225.00 | Your Price $180.00
Add To Cart