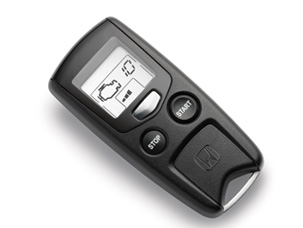 Remote Engine Start System II
The all new Remote Engine Start System is designed to provide convenience for Honda owners living in cold or hot climate conditions. Warm-up your vehicle in the winter, or cool it down in the summer. The remote emits a signal to the receiver unit that commands the vehicle system to start and stop the engine. Up to 200 ft. range with the vehicle and remote. Command button to prevent accidental engine start/stop. Automatically activates vehicle climate control and/or defroster. Two-way remote system that lets you know your vehicle`s status. Applies to vehicles with Automatic Climate Control.

Click here to view a PDF of the installation instructions.
Remote Engine Start System Part Number 08E91-E22-101AList Price: $347.00 | Your Price $277.60
Add To Cart
Remote Engine Start System II Attachment Part Number 08E92-SZA-100AList Price: $155.00 | Your Price $124.00
Add To Cart